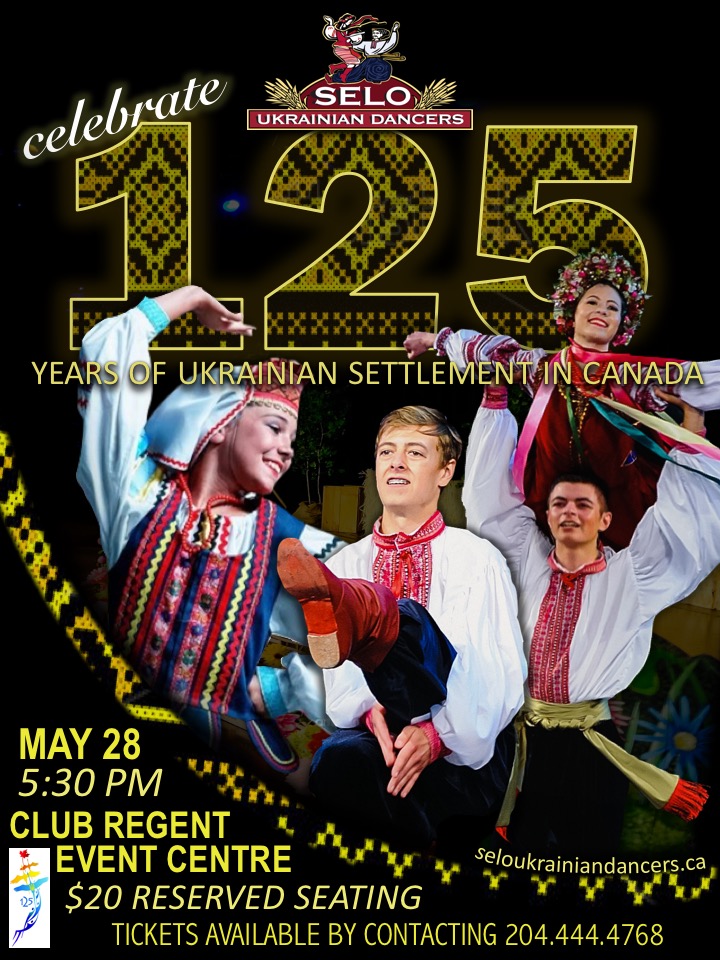 Sunday, May 28th marked our 31st annual dance recital. The troupe celebrated 125 years since the first Ukrainian immigrants came to Canada by performing their original show, 'Through the Eyes of a Sheepskin Coat'.
The story began with a Christmas scene, occurring in present day Canada, depicting a family celebrating Ukrainian Christmas traditions.  It followed the children as each of them received an exciting Christmas gift, except for one young boy who was less than thrilled to open an old, sheepskin coat. He couldn't figure out why he received this incredibly boring gift. Before he could leave its side, the kozhukh (sheepskin coat) stopped the boy to tell its story.
The show followed the journey of the kozhukh, from its experiences in Ukraine to seeing the new, unknown lands of Canada. From being given as a departing gift in the village, to shooing mosquitoes on prairie soils, the kozhukh shared its emotional story filled with both heartache and laughs.
By the end of the show, the boy had a new found appreciation for his Christmas gift. He realized the significance of the kozhukh; he was grateful for what his ancestors endured by leaving family in Ukraine, making the journey to Canada and persevering in creating a home in a new country.
The show commemorated the many Ukrainian pioneers who paved the way for generations to come. It highlighted their hope, determination, perseverance, faith and success.
We are very proud of all the dancers for their hard work this year. Thank you to all of the volunteers and backstage helpers that made the show run smoothly. Lastly, thank you to all of the audience members who filled the seats, supported us, and came to enjoy the story we worked hard to bring to life.
"So glad my Mom and I went to the recital last night. It was amazing – and we weren't expecting such a high caliber of  talent. Congratulations to all involved, including your obviously tireless organizers. P.S. My Mom is 93 years old and of Ukrainian descent. Her father was one of the settlers your show profiled, settling in the Interlake area in 1905. Looking forward to the next show."– Lorraine
We are so thankful for all of our sponsors. Please show them your support!…
Be Our Baba & Gigi– $1000 Level
Western Turbo
Patient Transport Services
iRangers
Stretcher Service of Manitoba
iStedy
Be Our Mighty Cossack– $500 Level
Carpathia Credit Union
Westrans
Krause Construction
Eastside Collision